Vintage 2022 update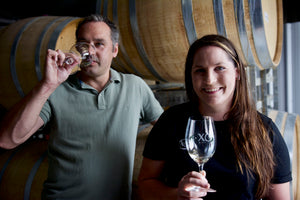 Leading into the 2022 vintage, the Adelaide Hills saw glorious, cool ripening conditions, combined with increased rain through the growing season. 2022 was the coolest season we have seen since 2017 and the third coolest behind 2011 and 2017.
Whilst there were two main rain events in January, the majority of the growing season through to middle of April was very kind, giving very mild and dry conditions. This resulted in ideal conditions for gradual sugar and flavour development while maintaining great acid structure. Whilst many of our growers were concerned about mildew and late season botrytis due to the La Nina conditions that were affecting most of eastern Australia, we were lucky to avoid all disease conditions in our fruit.
There were a number of hail storms that travelled through wine regions in South Australia in late 2021, the affect of these storms was focused further towards the north. However, we did see some damage to shoots and bunch primordia in some of our vineyards towards the north of the Adelaide Hills.
Fruit quality of 2022 looks to be outstanding, with mild conditions resulting in flavour development that  has been exceptional. It is a little early to tell, but so far we expecting that our wines from this years will equal if not exceed the quality of the "exceptional" 2021 vintage.
All parcels of fruit have now been harvested, ferments and are now aging. We have commences post vintage blending of our early release white wines, and we look forward to seeing our first 2022 wines in bottle very shortly!