Perfect Pairing: Adelaide Hills Syrah and herb-crusted rack of lamb with roasted vegetables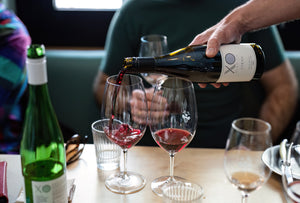 Indulge your senses with one of our culinary pairings, featuring our 2021 Adelaide Hills Syrah. This recipe perfectly harmonises with the rich flavours and elegance of our Syrah. Get ready to tantalize your taste buds and embark on a culinary adventure like no other! 
Recipe Pairing: Herb-Crusted Rack of Lamb with Roasted Vegetables 
Let's start by preparing the star of our dish - a succulent herb-crusted rack of lamb. Coat the lamb rack generously with a mix of fresh herbs like rosemary, thyme, and parsley, along with a touch of olive oil, garlic, and salt. Sear it in a hot skillet until beautifully browned, then transfer it to the oven and roast until perfectly tender and cooked to your desired level of doneness. 
While the lamb roasts to perfection, let's prepare our roasted vegetables. Toss a medley of colourful vegetables such as eggplant, tomatoes, bell peppers, and zucchini with olive oil, garlic, salt, and pepper. Arrange them on a baking sheet and roast until they become caramelized and bursting with flavour. 
As you take the first bite of the herb-crusted lamb, let the flavours dance on your palate. The savoury, juicy meat pairs harmoniously with our elegant and fruit-forward 2021 XO Adelaide Hills Syrah. The wine's notes of blackberries, subtle spices, and a touch of oak complement the herbaceous crust and succulence of the lamb, elevating each bite to new heights of culinary delight. 
The roasted vegetables add a delightful element of sweetness and smokiness to the dish. Their vibrant flavours find perfect harmony with the medium-bodied and well-structured Adelaide Hills Syrah, creating a symphony of tastes that will leave you craving more.